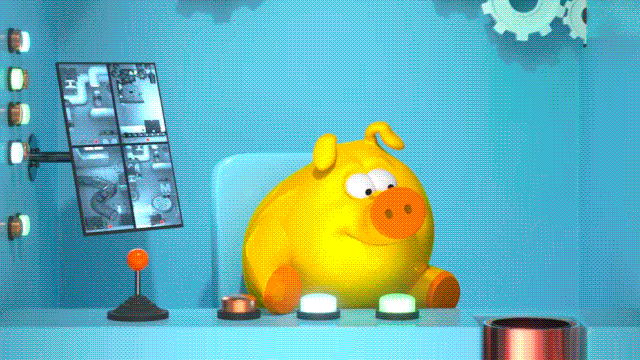 The Revolution of Sweepstakes
Every now and then,
Migros
surprises its customers with new and exciting promotions. One of these is a sweepstake machine where you can scan your receipt and enter a prize contest. This concept was to be given a new boost, and we were asked to develop a new and unconventional way of doing sweepstakes.
My first task was to come up with ideas that took a completely different approach than the usual wheels of fortune or slot machines. Said, done, and it didn't take long for a wide variety of ideas to emerge. One in particular stood out, which was to keep the principle of the fortune machine, but show what happens inside the machine.
We used Miggy, one of Migros' best-known mascots, as the leading figure and had her control a machine that is serviced by small sympathetic figures who do their jobs inside. A lot of funny things happen and sometimes, unfortunately, a lot of things go wrong.

The most important thing was to give the participants the feeling of being part of an interactive game and to sweeten their day for a short moment. No matter whether they win or not. All they had to do was scan their receipt. And, most notably, they could also participate with receipts from competing companies, which was recognized by the application.
What can you tell in 8 seconds?
First, we developed various stories. The main challenge here was that a maximum of 8 seconds should elapse between the time the receipt is scanned and the result, so that the participants in line don't have to wait too long. What can you tell within 8 seconds?

The Headquarters
Here, the scanned receipt is sent in a capsule and Miggy forwards it to one of the rooms, which are connected by pipes. When no one was playing, idle animations were played after a while to attract customers.
The Rooms
There were three different rooms, the Future Tech Room, the Laboratory and the Basic Tech Room, to which the capsule was sent. With a little luck you had a win at the end, but mostly a lot of things still went wrong.
Hello, new family member!
The little characters busily working inside the machine were also part of the development of this project. Migros already had plenty of characters and they didn't want to introduce a new one initially. But they couldn't resist this likeable little guy, because it was and is the brand's embodiment. The Minspektor. A cute little guy whose body represents the well-known orange M of Migros.

I was and am really proud to have invented this character and to have convinced Migros to include it in their repertoire. It quickly became so popular that it was used in other promotions as well.
Online Participation
It should also be possible to participate in the promotion online to save waiting time at the machine. For this we transferred the machine to the web and with the help of the camera on the cell phone you could scan the receipt or enter the receipt number.
Categories:
Concept, Sweepstakes, New Way, Animation, Illustration, Character Design